#9: The Immortal Lives of Black Folks
The no good, very bad weeks, and the enduring strength of Blackness
Hello. Happy Labor Day!
Welcome to the ninth issue of Blaxplaining, a weekly (yaas, we're now weekly!) newsletter examining the nuances of Black contemporary life and current affairs. If you like this newsletter, please follow @blaxplaining on Twitter (And, yaas, we're now on Twitter), and share it with everybody and their momma, and then some.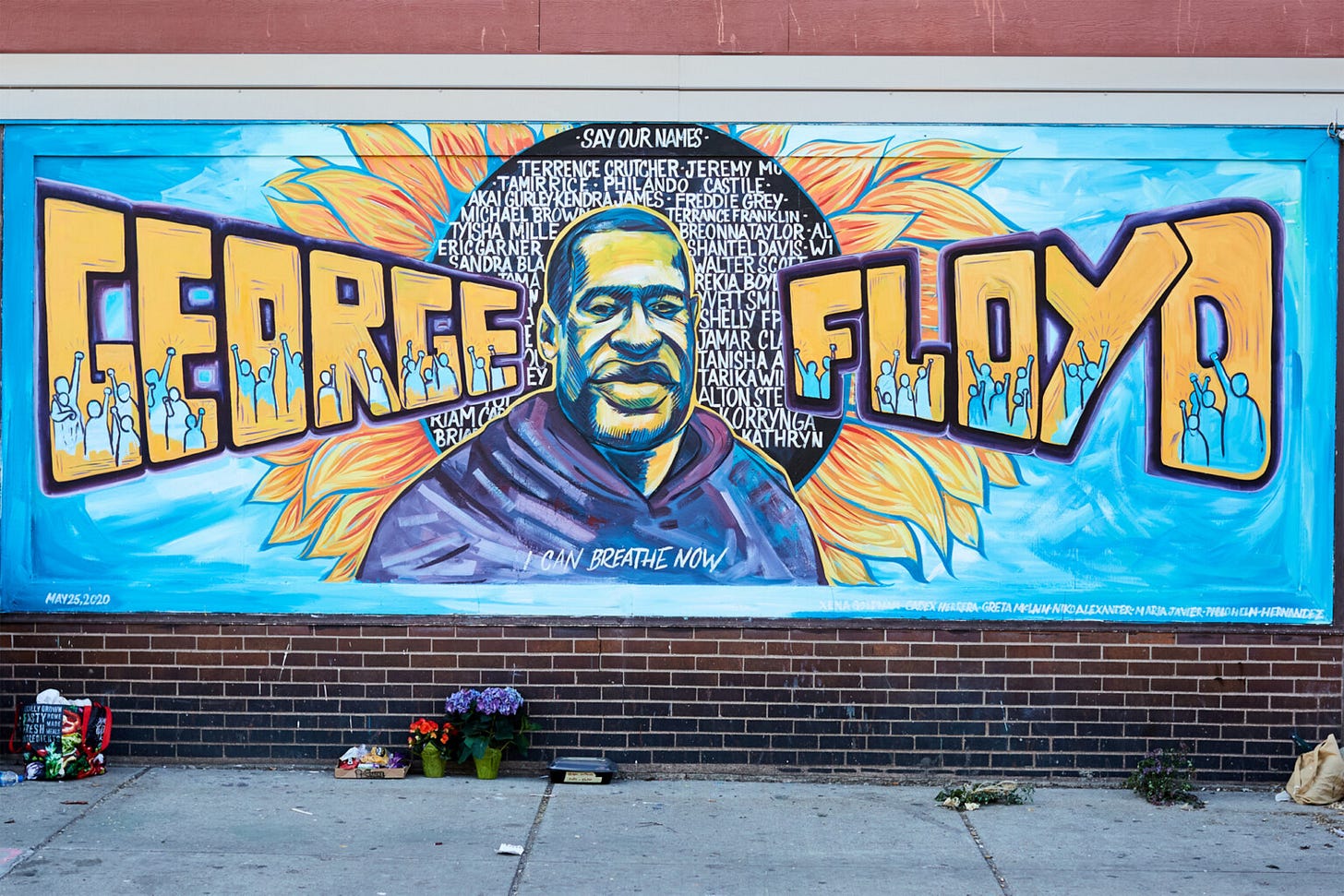 Mural by Xena Goldman, Cadex Herrera, Greta McLain, Niko Alexander, and Pablo Hernandez
If I had to pick one word that describes the last two weeks, it would be despair. One can argue that this word can be used to define the entire year, but it best captures the emotional and mental fallout of these past two weeks. Even now as I am writing, I am overwhelmed by how much tragedy occurred in such little time. Don't get me started on the Republican cult of personality and the party's brazen embrace of racism and authoritarianism. Don't get me started on waning support for Black Lives Matter among white people. And don't even get me started on these white supremacists and militias. What was even more disorienting, however, was that so much of our time was surrounded by death.
We lost Georgetown coach John Thompson and actor Chadwick Boseman, two heroes to our community. And despite months of protests, police brutality still awaits us. Jacob Blake luckily survived, but Dijon Kizee and Deon Kay did not. In addition to everything else, it was the 65th anniversary of Emmett Till's murder. As I try to mourn and process these deaths, I can only be reminded of the loss of Kobe Bryant, John Lewis, and C.T. Vivian; and the injustices of Ahmaud Arbery, Breonna Taylor, Daniel Prude, Steven Taylor, George Floyd, and countless others. And let us not forget the 185,000+ lives lost by a disease that continues to disproportionately affect Black people.
I am beginning to wonder if death will continue to be part of our story as much as it has been a part of our history. Of course, some deaths are natural or accidents, even though they may feel like spiritually-conspired gut-punches, but so much more of our deaths result from the systematic devaluing of Black lives. But despite the odds being against our favor, we continue to rise. We continue to honor our ancestors by continuing the fight they passed on to us. We continue to say their names and march for their honor. We continue to sing and dance no matter how dark the times. We continue to vote and fight for justice. We continue to create work that celebrates life despite living in a system that flourishes off our demise. 
Our progress is complicated, but despite our pain, we can still play in the NBA playoffs, host a cookout amidst the Kenosha protests, celebrate the 57th anniversary of the March on Washington, and come together to sing the forever bop "The Boy Is Mine". Because we know that the show must go on because, without us, the world does not move.
---
Recommended Reads:
The Inevitable Whitelash Against Racial Justice Has Started by Elie Mystal.
In world that equates Blackness with deviancy, you can always count on racism. Elie Mystal's Op-Ed for The Nation beautifully demonstrates how the Black progressive movements have been upended by white people's calls for normalcy and law and order, which is known as doublespeak for "cut that protesting shit out". Pair with Nathalie Baptiste's There Are No Black Victims in Donald Trump's America, featured in Mother Jones.
Why Chadwick Boseman's Death Hurts so Much by Elamin Abdelmahmoud
Buzzfeed's Elamin Abdelmahmoud on the tragic death of the celebrated actor and activist, Chadwick Boseman, who played iconic roles like James Brown, Jackie Robinson, Thurgood Marshall, and of course King T'Challa. Long Live the King
What Incarcerated Rappers Can Teach America by Hannah Giorgis
Incarcerated rappers, Drakeo and 03 Greedo, use rap music to share their experience behind bars and criticize the penitentiary system in this article written by The Atlantic's Hannah Giorgis. Sidenote: Remember how legendary it was when Shyne made an appearance on Usher's Confessions Part II (Remix) from the Clinton Correctional Facility.
The NBA Wildcat Strike Is How A Revolution Starts by Lester Spence
Professor Lester Spence connects the dots of Black pop culture to the Black social movement through the lens of the historic NBA walkout in his article for Mother Jones. Shut up and dribble, no more.
The Authorities Are Gunning For Breonna Taylor by Elie Mystal.
On September 13, it will be six months since the death of Breonna Taylor, and the police officers responsible have yet to been held accountable. Elie Mystal calls attention to the evil, state-sponsored harassment of the men involved in Breonna's life in another article for The Nation. 
---
In case you missed it, @Blaxplaining is now on Twitter. Join me tonight as I live-tweet Episode 4 of Lovecraft Country at 9 P.M. EST. 
That's all for this week. If you like this issue, please forward it to your friends, or enemies if you like being petty. And if you're not a subscriber, go ahead and subscribe. Remember to wear your mask, partake in some self-care, and make sure you're registered to vote. Thanks for reading. Until next week!